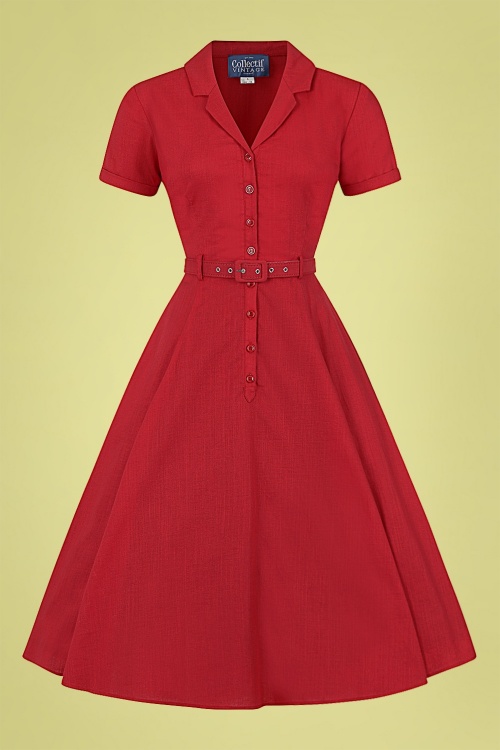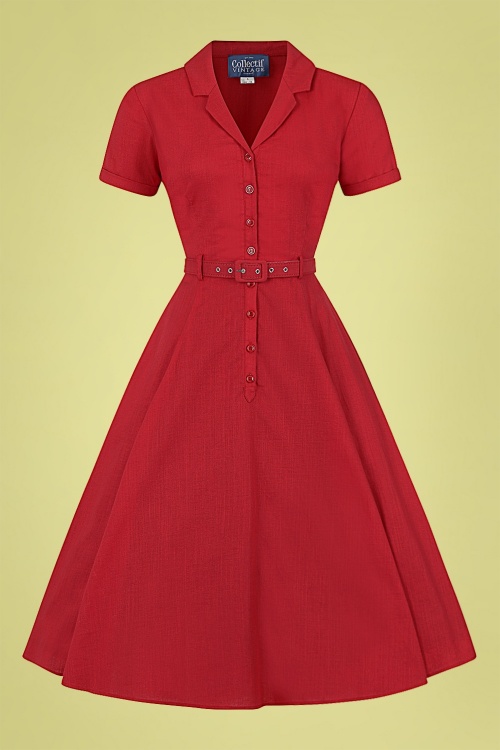 51% discount
50s Caterina Swing Dress in Strawberry Red
The combination possibilities are endless with this 50s Caterina Swing Dress in Strawberry Red! A beautiful shirt dress which isn't only suited for a retro look in the evening, this swing beauty with playful buttons is also a great choice for a day at the office ;-) Her elegant V-neckline, lapel collar, short sleeves and belt create a stunning feminine silhouette and will make you feel very feminine. Made of a sturdy, strawberry-red cotton blend with just a hint of stretch that has the look and feel of linen. Don't forget your bag and bling bling!
Full swing style
V-neckline
Lapel collar
Short sleeves with little fold overs
Row of buttons
Detachable belt
Side pockets
Pair with one of our petticoats for an extra festive look
Hits below the knee at a height of 1.70m / 5'7"
Article nr.
32120
Handwash inside out (don't leave it in the water)
Wash inside out
Wash dark colors separately
Machine wash 30c delicates cycle
Do not dry clean
Do not tumble dry
Iron inside out on low temperature setting
Do not bleach
Wunderschönes Kleid, schaut auch ohne Petticoat super aus. Passform ist perfekt. Der Farbton geht je nach Lichteinfall ein bisschen Richtung Dunkelpink, aber ist traumhaft
Embla Petersdottir
&nbsp|&nbsp
2020-05-27 20:01:25
---
nl
Mooi rood is niet lelijk
Jaaaaa, eindelijk na een paar miskopen waarbij de taille doorgaans te hoog zat, eindelijk weer een mooie jurk die past. Dit rode plaatje heeft een linnenachtige look en voelt koel aan op de huid. Heerlijk dus met warme dagen. De kleur is ook zo mooi rood als op de foto. Het enige wat ik aangepast heb is de wijdte van de rok. Dit was voor mij persoonlijk een beetje te veel stof, maar dat was gemakkelijk op te lossen. Daarnaast heeft deze beauty ook nog eens een paar handig verstopte zakken. Kortom een aanrader, ook als je wat langer bent.
Tineke
&nbsp|&nbsp
2020-05-20 09:54:29
---
What an absolutely perfect & feminine dress! So versatile too! Stunning!!! ♥️♥️
Alexa
&nbsp|&nbsp
2020-04-28 04:17:40
---
Ein Traum, in rot mit leichter Leinen Struktur. Wundervolles Alltagskleid, leicht dehnbarer Stoff, das Kleid sitzt optimal!
Eva Lindner
&nbsp|&nbsp
2020-04-21 08:55:07
---
de
Tolle auffallende Farbe
Tolles Kleid, durch den hohen Baumwollanteil angenehm zu tragen. Passt einwandfrei. Aber vorsichtig bei heller Unterwäsche, trotz Waschen vor dem ersten Tragen färbt das Kleid stark ab.
Andrea Albers
&nbsp|&nbsp
2020-04-17 09:02:14
---
nl
In een woord geweldig!
Ik ben zo vreselijk blij met deze jurk, echt een prachtige kleur rood en hij past perfect. Hoef verder niet na te denken wat ik aan zal trekken wanneer ik na een afspraak ga.
Ineke
&nbsp|&nbsp
2022-05-21 10:50:40
---
Deze jurk is zo veel mooier in het echt !! Was een beetje bang dat het brandweer rood zou zijn maar het is juist een hele fijne mat kleur rood. Heel erg mooi.
Daisy Donath Mantel
&nbsp|&nbsp
2021-07-02 14:57:32
---
nl
In plaats van vakantie mooie kleren gekocht!
Vandaag de mooie doos met de strik ontvangen en meteen uitgepakt.
De groene jurk in L gekocht omdat M niet voorradig is. Inderdaad te groot maar door mijn grote cupmaat en de riem kan het nog net. Te mooi om terug te sturen! Ideale jurk voor een smalle taille en een grote boezem. Ik ben maar 1.62 dus de jurken zijn altijd wel wat lang. Wel vind ik het raar dat op de foto's geen inkijk te zien is terwijl het toch echt een heel lage jurk is. Er moet een shirtje onder of een vestje over.
De rode jurk (maat M) is ook al zo mooi, zit fantastisch! Denk er om dat er geen stress in zit dus bij mij is de taille ruim en bij de borsten kan het nog maar net. Jammer genoeg is de afwerking wat minder. Draadjes zitten niet goed vastgehecht, een bandje voor de riem zit al los en er hangen allerlei kleuren losse draden aan en in de jurk. Bij mij is de jurk niet doorschijnend en ziet er uit als linnen.
Het blauwe vestje is helaas niet mijn model, iets te lang en te ruim. Maar erg mooie stof en kleur.
De andere gekleurde vestjes zijn erg kort maar heel handig om te hebben. De groene vind ik een vreemde kleur en de blauwe had een paar lusjes. Die gaan dus terug.
Het zwarte vestje is eigenlijk niet mijn ding, met die kraag en strikjes. Maar het zit heel erg mooi en door de kraag luxe en netjes, voor naar het werk. Echt een aanrader! Mooie lengte mouwen.
De onderjurk is prijzig maar werkt echt. Er zitten geen vervelende naden in en het kruipt niet omhoog. Door de grote cupmaat trekken de bandjes een beetje maar dat stoort me niet.
Liep er mee door de kamer en zag pas later dat de achterkant doorschijnende stof heeft!
De rode schoenen zien er erg mooi uit maar ik weet nog niet of ik ze houd. De tip gevolgd en een maat kleiner besteld maar hopelijk lopen ze nog wel iets uit. De kanten randen in de schoen moeten ook even wennen aan je voeten. Ik vind het niet praktisch en hoop dat ze de panty's niet stuk maken.
De panty met steunbroekje zit prima en ondersteunt echt. De kleur/tint is ook mooi. Alleen is het verder gewoon een panty, die bij mij bij de eerste keer dragen altijd stuk gaan. Ben benieuwd of ik ze na morgen weg kan gooien.
Kortom, heel veel geld uitgegeven maar wel aan heel mooie kleding.
Marjolein
&nbsp|&nbsp
2021-06-10 16:46:40
---
de
Ein echtes Lieblingskleid
Dieses Kleid gehört in den Kleiderschrank eines jeden Vintage Fan.
Es ist super bequem und dabei absolut chic, der Look ist klassisch und lässt sich super kombinieren. Die Mini Polka Fotos sind süß und gleichzeitig dezent.
Ich liebe dieses Kleid und habe mittlerweile andere Farben davon gekauft, weil ich es am liebsten ständig tragen würde.
Linda
&nbsp|&nbsp
2021-05-12 15:51:50
---
de
Der Stoff gefällt mir nicht
Ich liebe die Caterina Kleider, auch dieses hier sitzt wie maßgeschneidert. Doch leider hat mir der Stoff überhaupt nicht gefallen. Es kam schon völlig zerknittert bei mir an, was mir zeigt, dass der Stoff extrem knitteranfällig ist. Er sieht tatsächlich an wie Leinen, verhält sich aber leider auch so (Knitterfalten), schade, es geht zurück...
Christina
&nbsp|&nbsp
2020-07-09 11:58:17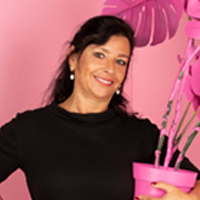 Response from Karin

Liebe Christina,
Obwohl wir die Ware so sorgfältig wie möglich verpacken kann es vor allem bei 97% Baumwollkleidung zu Knitterfalten kommen, tut uns sehr leid!
Selbstverständlich werden wir Ihnen nach Erhalt den Kaufpreis des Kleides erstatten.

Liebe Grüße
Karin
---
Dit is absoluut mijn favoriete jurk. Prachtige pasvorm, mooie stevige stof met een beetje stretch, katoen: ideaal.

Ik heb inmiddels vier kleuren.

Enige nadeel: bij sommige kleuren zit een riempje zonder gaatjes. En dat blijft niet goed zitten, is echt heel vervelend. Echt goed op letten.
Maar verder: ideale jurk!

Karen
&nbsp|&nbsp
2020-06-28 13:44:32
---
the most beautiful og versitile dress, I am so happy to have it in my wandrobe. Im rocking a red dress all summer long!
Louise
&nbsp|&nbsp
2020-06-13 06:50:18
---
Auf dieses Kleid hatte ich mich lange gefreut und war nun doch enttäuscht. Die Farbe geht eher in ein rot/pink, was ich nicht tragen kann. Vor allem gefiel mir der Stoff nicht, ich hatte etwas schwereres erwartet und ich empfand ihn leicht durchschimmernd. Es ging leider zurück. Absolut schön ist der Schnitt.
Susanne
&nbsp|&nbsp
2020-06-05 07:28:23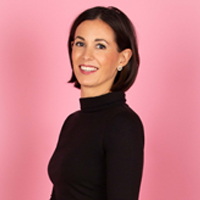 Response from Sylvia

Liebe Susanne, wie Schade dass das Kleid nicht ganz zu Ihnen gepasst hat. Sobald wir Ihre Rücksendung erhalten und verarbeitet haben, erstatten wir selbstverständlich den Kaufbetrag.
Liebe Grüße,
Sylvia
Kundenservice
---
Super flatterende pasvorm, mooie rode kleur, ... Deze had ik wat op gegokt of het model me zou staan, maar het is gewoonweg prachtig!
Wendy G
&nbsp|&nbsp
2020-05-28 06:16:28
---
nl
Heel mooi: luchtige rode Catherina swing jurk .
Een plaatje, met mooie mouw afzet, mooie kraag en je kunt knoopje iets meer of minder open doen bij buste. De lengte is bij mij bijna halverwege kuit en daardoor valt ie prachtig, slank makend.
Korter staat mij persoonlijk bij deze niet vlotter. Mode, qua lente perfect.
Eenmaal goed gestreken blijft jurk glad genoeg, een fijne linnenachtige katoen.
Zit in eigen maat ruim genoeg.
Catherina jurken zijn top!
Nu de donkerblauwe nog mét kleine witte stipjes.
Jean
&nbsp|&nbsp
2022-06-02 17:09:37
---