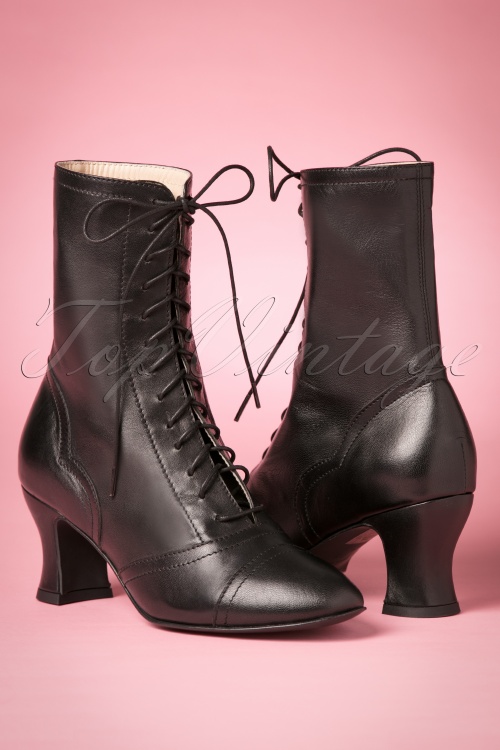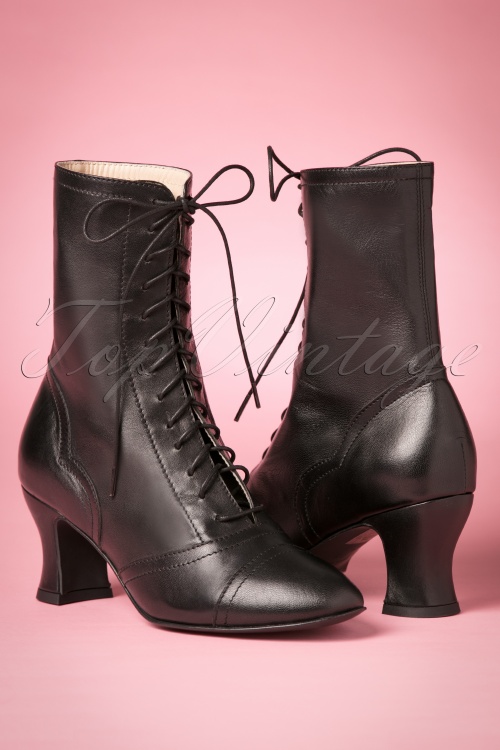 40s Frida Lace Up Booties in Black
If you're feeling nostalgic and you have a passion for vintage, these 40s Frida Lace Up Booties in Black are like a dream come true!

Lace them up baby! These cute ankle booties are made from a top quality, supple black leather finished off with a lace-up closure and cute round shoe noses. The comfortable, solid spoon heel and the soft leather insole of these 40s inspired booties also ensure a lovely fit. From now on, the only way is (laced) up!... with these cute booties ;-)
Genuine leather
Ankle booties
Round shoe nose
Spoon heel
Lace-up closure
Fully lined in leather
Anti-skid outsole
Pay attention; these booties come without a zip closure
Article nr.
21252
Genuine leather
Synthetic sole
Avoid contact with water/parfum/cleaning agent
Petit cadeaux pour ma femme qui en ai ravis. En plus de la finesse et le galbe de la chaussure, visiblement elles sont très confortables (ce qui est rare pour ce type de chaussures d'après de ma femme). La livraison a été très rapide et le colis propre.
Merci à toute l'équipe
David Gally
&nbsp|&nbsp
2019-01-10 07:43:20
---
fr
Les bottines de mes rêves !
Je les ai rêvées depuis l'enfance, TopVintage a réalisé mon rêve !

Belles et confortables, je pourrai les porter tous les jours. Le cuir semble d'excellente qualité, les finitions sont propres, le rendu identique à celui sur les photos... Le talon d'une hauteur juste parfaite, ni trop haut ni trop bas, l'idéal pour la vie quotidienne.

Ces bottines sont LA touche finale à une tenue vintage. Elles dégage un charme irrésistible, apportent une touche d'élégance et s'assortissent à pratiquement tout. LA paire à avoir !
Calypso
&nbsp|&nbsp
2019-01-06 00:24:09
---
fr
De superbes bottines !
De magnifiques bottines, même si elles sont un peu difficiles à mettre et enlever.
Elles sont cependant très confortables à porter toute la journée !
Juliette Defay
&nbsp|&nbsp
2019-01-05 13:54:24
---
Deze laarsjes (of soortgelijke) stonden al jaren op mijn: die zou ik graag willen hebben, lijstje.
Dus toen ik ze hier zag werd dat een dingetje.
De laarsjes zag ik in gedachten bij het groene jurkje en toen ik ze bij elkaar aan had zag ik dat ze het jurkje een pittig uiterlijk gaven.
Het aan en uittrekken is wel wat lastig zonder ritsje, maar dat hoort ook niet bij deze laarsjes......denk ik :-) happy.
Tineke Vermeulen
&nbsp|&nbsp
2018-11-07 20:41:08
---
nl
Werkelijk oogverblindend
Deze laarsjes zijn ongelofelijk chique!
Ze staan echt mooi onder elke outfit!
En ze lopen heeeerlijk.ik heb wat moeilijke voeten en draag daaromniet vaak hakken,maar deze zijn echt supercomfortabel!wederom bedankt Topvintage!ben echt vaste klant en zonder jullie zou het leven een stuk saaier zijn!!!
Enkel jammer van de retourkosten,anders zou ik waarschijnlijk nog meer bestellen!
Leen Francis
&nbsp|&nbsp
2018-10-18 16:12:29
---
nl
Kleerkast bijna vol van TOP VINTAGE KLEDING!
Hier kan je alles vinden wat een dame nodig heeft wat kleding betreft;
Jani (Belgie) of Gordon(NL) mogen gerust lans komen ;-)
YVETTE VAN DEN BROECK
&nbsp|&nbsp
2017-11-16 11:10:06
---
J'ai reçu mes bottines le lendemain de ma commande. Je les ai portées toute la journée, moi qui ne m'en sort pas du tout avec des talons, et j'ai été surprise de ne m'être pas une seule fois tordu la cheville! Elles sont magnifiques, de qualité, et extrêmement confortables. Bien qu'elles soient assez chères, je les recommande vraiment.
Abigayl De Gobba
&nbsp|&nbsp
2017-10-12 15:35:29
---
Mit den Stiefeln habe ich länger geäugelt, da sie nicht gerade günstig sind. Ich habe mich dann aber doch durchgerungen sie zu bestellen.

Pro: Sie haben tolles weiches Leder, einen nicht zu hohen Absatz und laufen sich gut.

Contra: Man muss die Stiefel jedes Mal komplett schnüren, die Schnürsenkel verhaken sich leider in den Oesen, mal so eben die Stiefel ausziehen und wieder anziehen ist damit nicht drin, man muss immer wieder Stück für Stück nachjustieren. Die Prozedur des Schuhe anziehens dauert ewig. Also nichts für Frauen wie mich, die morgens ohnehin immer schon zu spät dran sind. Weiterer negativer Punkt: Die Stiefel sind komplett ungefüttert, es ist innen das blanke Leder. Ich glaube, da hat man nicht lange Freude dran. Für den Preis habe ich etwas anderes erwartet. Also zurück.
Anne
&nbsp|&nbsp
2017-10-08 11:25:29
---
en
The BEST Boots ever !!!!
The most stylish and comfortable boots that i've ever worn
Coralie CHABERT
&nbsp|&nbsp
2017-09-30 19:01:02
---
Erg getwijfeld over de laarsjes vanwege de prijs, maar toen ik twee cadeaubonnen kreeg van iemand heb ik ze toch besteld en wat ben ik er blij mee! Ze zijn heel stijlvol, mooi en zitten heerlijk :)
De rok van Yumi is prachtig, voelt hetzelfde aan als de rok van Yumi die ik heb met witte achtergrond.
Ook het shirt van collectif en de bolero zijn mooi en zitten goed.
Marijke de Jong
&nbsp|&nbsp
2019-01-10 20:40:55
---