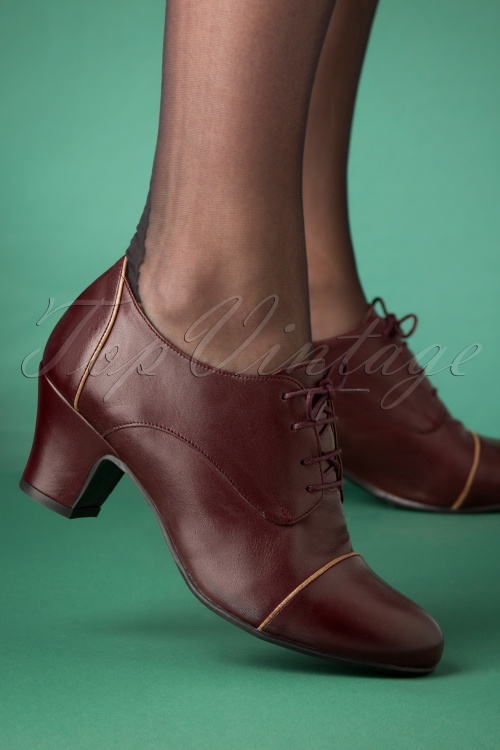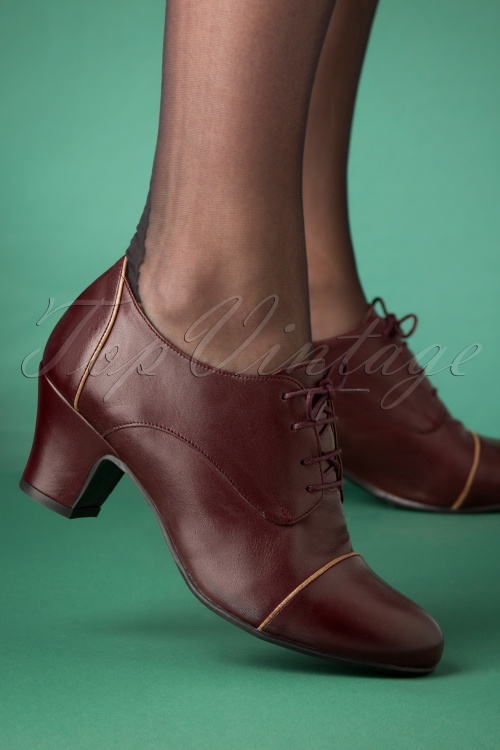 40s Felice Shoe Booties in Wine
These 40s Felice Shoe Booties in Wine put the "V" in vintage! A comfy chunky block heel, an almond toe and a vintage look to boot ;-) Made of a high quality, supple, burgundy leather featuring contrast piping in light pink and a handy lace-up closure. Miz Mooz knows that the perfect pair of shoes needs to be both a feast for the eyes and a pleasure to wear... that's why these beauties also have super comfy leather footbed. Elegance meets comfort... what more could you wish for in a pair of shoes?!
Low cut ankle booties
Genuine leather
Almond toe 
Lace-up closure
Sturdy block heel
Comfy insole made of leather
Non-skid outsole made of rubber
Article nr.
30047
Innersole genuine leather
Genuine leather
Upper Genuine Leather
Rubber sole
Avoid contact with water/parfum/cleaning agent
Wat ben ik blij met de kleding en schoenen.
Schoenen en laarzen zitten perfect en sjiek.
De body corrigeert redelijk, doch acceptabel. Met strak kleding zie je wel de randjes achter.
Shirts zijn mooi vrouwelijk en heerlijk van stof.
De rokjes zijn perfect, met elastische rand, kun je zo hoog/laag plaatsen waardoor t op het mooiste uitkomt.
Dank topvintage.
Irma
&nbsp|&nbsp
2021-10-06 22:16:00
---
Wat een mooie spullen en wat staat het allemaal super vrouwelijk en fijn.
De schoenen en de laarzen zitten allemaal perfect, mooie hak, prima voetbed en mooie shieke look.
De rokjes heerlijk met elastiek band, kleden netjes af en kan je zo hoog/laag plaatsen als je prettig vindt.
De body corrigeert een beetje, doch acceptabel, echter bij strakke kleding zie je de randen achter.
Heel blij met alle items. Dank Topvintage.
Irma
&nbsp|&nbsp
2021-10-06 22:08:04
---
Die Schuhe in einem Farbton zwischen Braun und Weinrot haben einen sehr altmodischen Schnitt - perfekt für alle, die es beim Retro-Look gern authentisch haben. Sie machen einen hochwertigen Eindruck. Ob sie bequem sind, konnte ich leider nicht herausfinden, weil meine Füße darin klemmten. Der Schnitt ist nur für schmale Füße geeignet, auch die Länge war etwas zu knapp.
Anja
&nbsp|&nbsp
2021-09-08 12:59:17
---
en
So sofr. Be aware the color is wine not brown
They are so soft and delicious to wear.
Be aware that the color in the picture looks brown, but they are as described wine!
Pia Nøhr Ellegaard
&nbsp|&nbsp
2020-08-26 10:51:18
---
Deze schoenen zijn zo fijn. De kleur is prachtig en past overal bij. De hakhoogte is precies goed en ze zitten comfortabel, ook als je de hele dag staat/loopt en het model is zo mooi. Verliefd op deze schoenen
Ilse
&nbsp|&nbsp
2020-07-15 09:03:55
---
Mooie schoentjes in wine. Zitten heerlijk met het zachte voetbed.
Maaike
&nbsp|&nbsp
2020-07-11 07:51:43
---
Zeer tevreden, zoals ik niet anders verwacht had van Top Vintage.
Jacobien
&nbsp|&nbsp
2022-10-02 10:53:15
---