There is something magical about weddings, don't you think? Whether it's a relative getting married or your bestie: it's sure to be a memorable occasion. Spring is approaching and that means wedding season is not far behind. What better time to highlight my favourite items from our wedding guest collection? Here we go! 
1. Wrapped in minty green
Let's start with an absolute stunner: a super flattering and sophisticated wrap dress in the prettiest shade of mint green that I've ever seen. She is definitely the kind of dress you will fall in love with. Thanks to her faux-wrap style, this Mira Mini Wrap Dress draws the eye to your waist, while the tie belt helps to enhance the wasp waist look even more. I also love the playful puffy sleeves; they breathe feminine elegance into your look. Although they are ¾ length, you can also pull them up a little and wear them elbow length. All you need now are some pretty accessories to pull your look together. I personally think that the Chunky Pearl Bracelet in Ivory looks beautiful with this dress. Then finish the look with these sparkly earrings by Go Dutch Label and I think you're all set for a romantic wedding!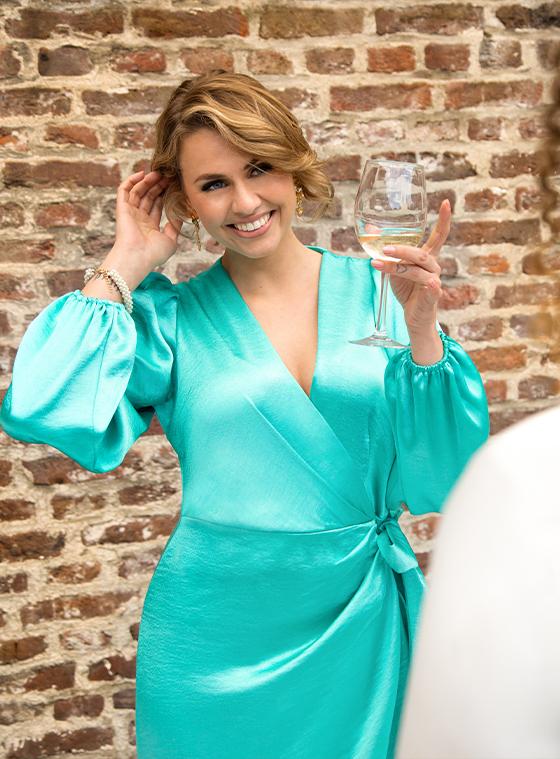 2. Romantic flowers are always a great choice!
Whether you're attending a romantic wedding in a luscious green garden or an indoor ceremony: I think that this Rinda Floral Maxi Dress in blue is always a great choice. The perfect wedding guest outfit if you like a dress that looks demure and classy but still stands out. The flattering style really cuts in at the waist and I also love the stunning V-neckline. The soft white flowers show up beautifully on the deep-blue background.  You can jazz up your look with these stunning Leanna Diamond earrings in gold, which will also add some sparkle. The large stones really make them stand out and they have a beautiful sparkle in both natural light and in the spotlight on a dance floor!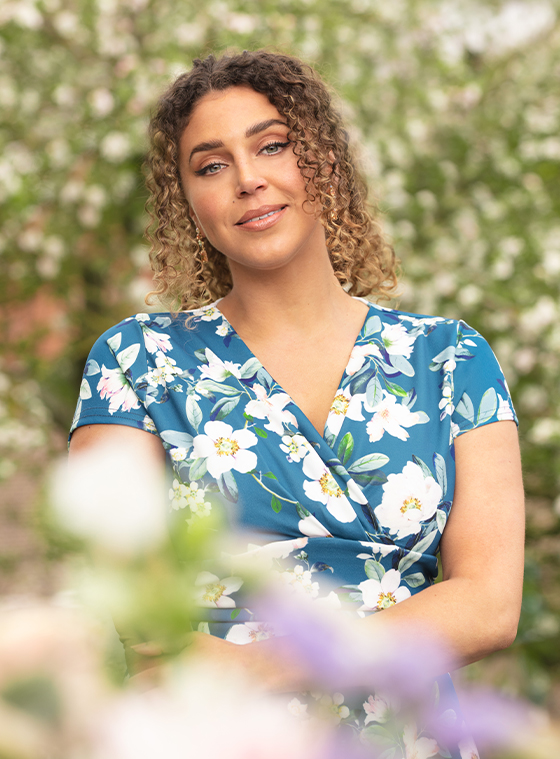 3. Who's that babe in blue?
I have to admit that I have a soft spot for pastels – that's why I was immediately drawn to this Rose Swing Dress in Blue! Simple yet sophisticated best describes this dress. The spaghetti straps make her a perfect outfit choice for summer weddings! And did I mention the super comfortable fit? The fabric is firm but also flexible and has a light stretch, so you'll have no problem taking to the dancefloor after a lavish meal.. 

If you opt for a beautiful but simple dress like this one, you can spruce it up with a pair of eye-catching shoes. I think that these June Portofino Pumps go really well with this dress. These shoes have that Italian flair that adds just a little more personality to your outfit - love it! And they are super comfy to boot! Finish your look with a pair of gold-toned flower earrings by Go Dutch Label and you're all set to party the night away on the dancefloor.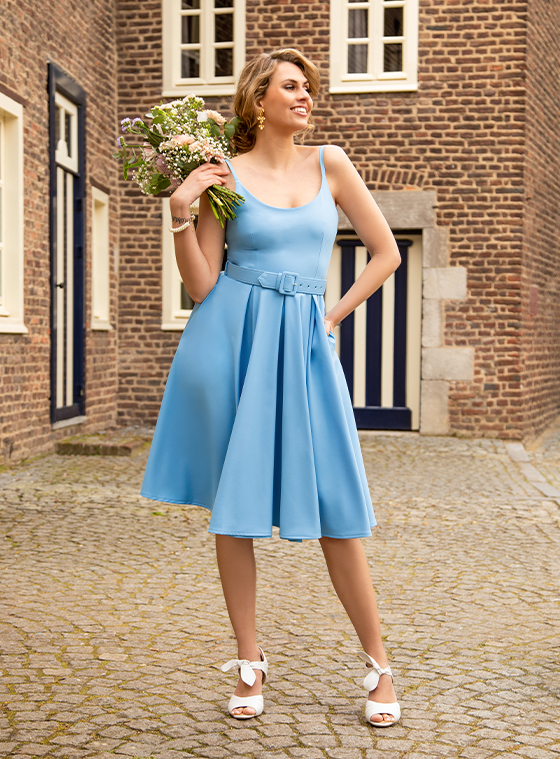 4. Sparkly chic
If you like a dress that is full of surprises, I would definitely recommend this Marty Limon Halter Dress in Mint Green. I mean, isn't this elegant green dress flaunting a unique retro design absolutely stunning?!  And it gets even better… Because as soon as the light hits this dress the woven, silver-toned metallic yarn works its magic. Sparkle away! I personally love wearing a pair of subtle nude heels, like these Rose Platform Sandals by Chelsea Crew, to really make the dress stand out. And when it comes to earrings, I think these Flower Stud Earrings in Gold and White by Go Dutch Label are a perfect match! Lovely summer vibes, wouldn't you agree?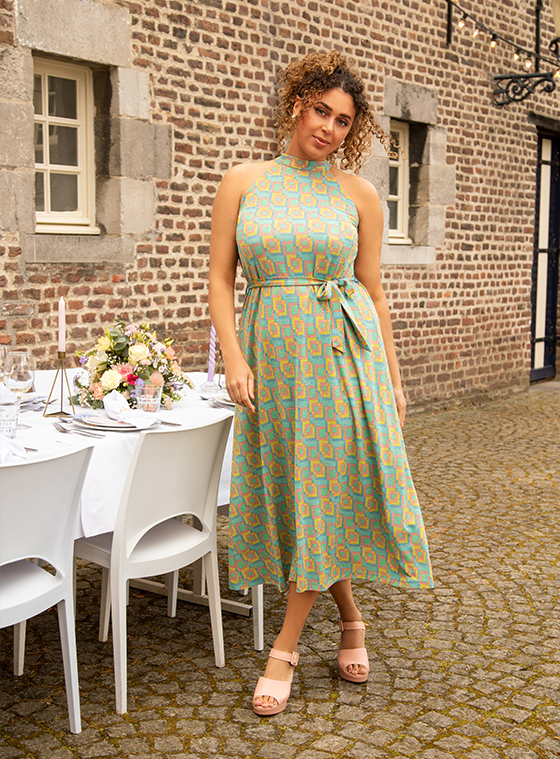 Which of these stunning looks would you like to wear to an upcoming wedding? You can find all these looks in our wedding guest collection! I have no doubt you will be receiving countless compliments, so be sure to let us know. Have fun!