Summer is fast approaching in this part of the world. That means holidays, beach trips, pool days and hours spent soaking up the sunshine on garden sun loungers: all these activities require on type of garment… Yes ladies, swimwear season is upon us. Sexy, elegant and wonderfully retro. I have compiled a list of my top swimwear picks.

Which item will be first in line to accompany you on your next getaway to a tropical destination?

1. Legs out in dark rouge
There is no doubt about it, a swimsuit is a summer essential! Just picture this: you're out on a boat or making a stop on the beach while exploring your holiday destination and all you have to do is take off your shorts and you're all set for a refreshing dive in the water. Super practical yes, and it makes for a charming look too! Especially if you're wearing this piece by TC BEACH in Dark Rouge which is made of a stretchy, textured fabric in dark red that hugs your curves. The high cut elongates your legs to almost supermodel status. Time to hit the boulevard!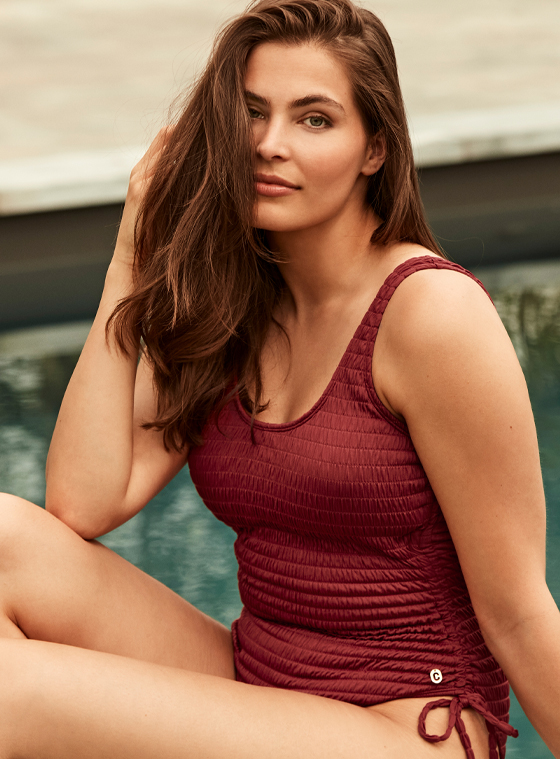 2. One swimsuit, endless looks
And the red beauty mentioned above isn't the only TC BEACH swimwear highlight in our new spring/summer collection. For example, with this blue swimsuit you can create many different looks! The Multiway Swimsuit in Blue Wave is styled with straps that can be worn in multiple ways. Halter-style or crisscross at the back: you can create your own individual beachy look that matches your curves perfectly. Finish your look with a pretty sun hat and you are guaranteed to be the most sexy beach babe around!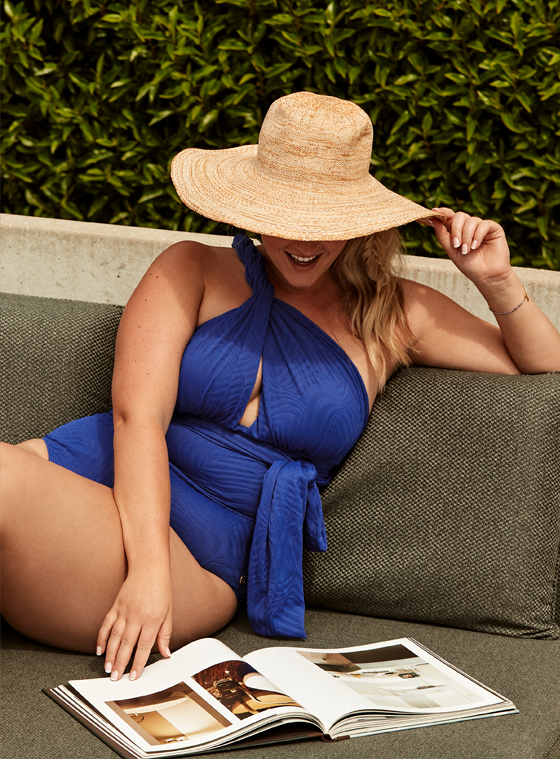 3. Irresistible in chocolate brown
Maybe blue just isn't your colour? In that case we have a great alternative lined up for you. A chocolate-brown swimsuit by TC BEACH with adjustable tie straps that can be adjusted depending on whether you have a longer or a shorter torso. You can also choose to show a little more cleavage to give your look that extra va-va-voom! She also flaunts a pretty low-cut back and a fit that is higher on the hips and slimmer on the buttocks for legs that seem endless. Made of a supple, ribbed fabric that fits your curves perfectly – surely you don't want to miss out on beauty like this?!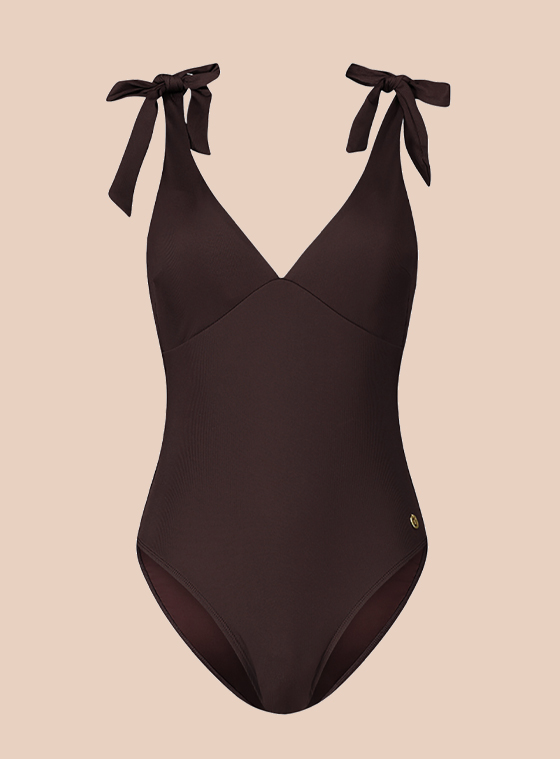 4. Sparkle like the ocean
Oh, how we love the versatility and flexibility that adjustable swimwear provides to the wearer. Like this stunning bikini top in green sparkle by TC BEACH: sparkling green and adjustable to your personal preferences. Thanks to the moulded cups you can dive into the water worry-free while the stretchy fabric gives you that ultimate bikini comfort. There's also the matching flipover bikini bottom to complete the look. And let's be honest: how wonderful would the stunning. soft-green hue fit into a tropical setting with palm trees and paradisiacal flowers? We love her!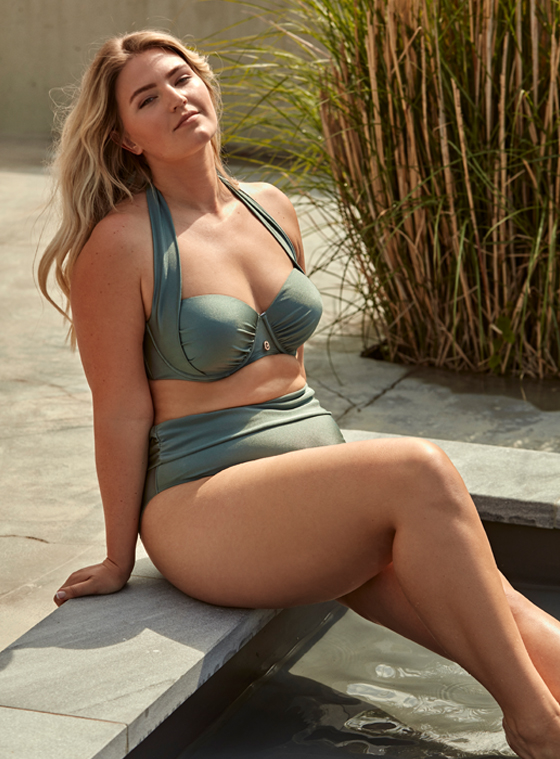 5. Retro bikini babe, anyone?!
Oh my, if you want to host a fifties-style pool party you absolutely need this gorgeous, black swimsuit by Esther Williams. This swimsuit is tailored to flaunt your curves - Monroe style! The gathered front is super flattering while the built-in support creates a super comfy fit so you can perform your best water ballet. The swimsuit has been very skilfully put together, so it will suit any body type. Do we hear a cheer?!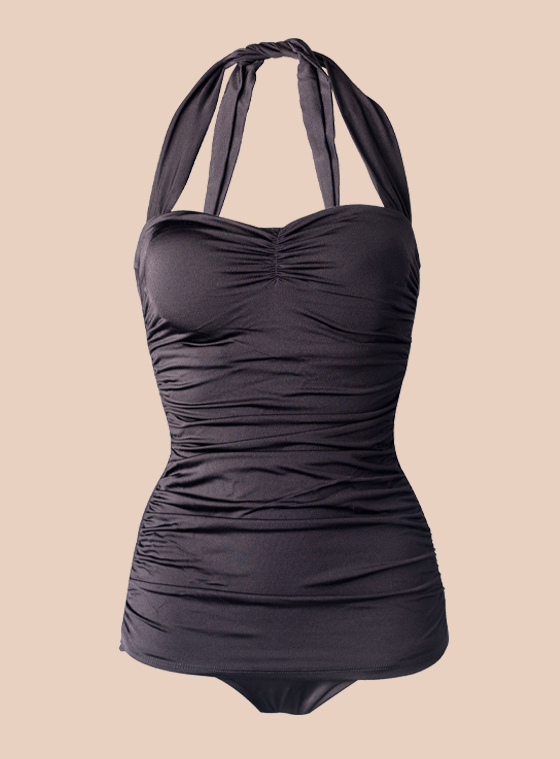 6. Unleash your inner Barbie!
Can you picture yourself taking a stroll around a beautiful resort in this pink cloud of a bikini? A timeless design that is firm, a dream to wear and looks great on every beach babe! The pink bikini top is styled with double halter straps – for some extra support. And the pink bikini bottom matches perfectly: high waisted and flaunting flirty drawstring ties at the sides. A dream come true for any woman who loves to ask the question: "Does it come in pink?"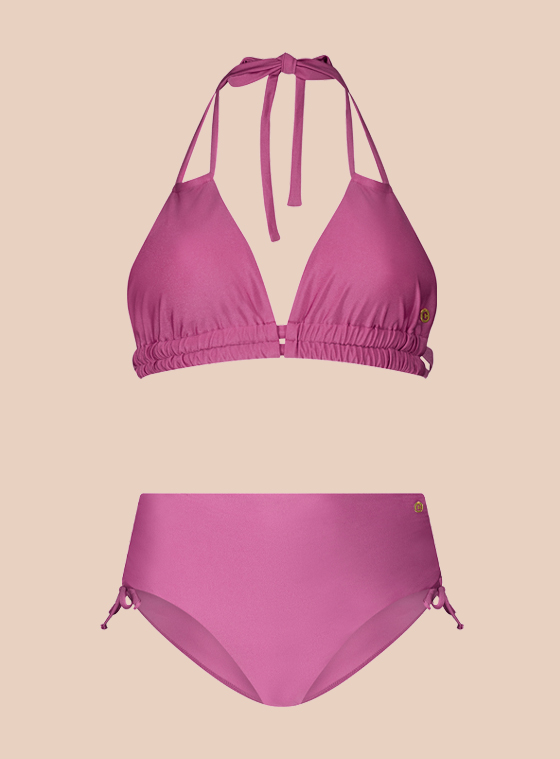 7. Bikini Boogie
Do you love seventies-inspired prints? So do I! That's why I think this set by TC BEACH is totally fabulous! The colours will instantly transport you to a Cabaña on a beach in Mexico. This retro bikini top is another design that can be adjusted to be worn according to your own preference. And of course, you also need the matching flipover bikini bottom. Want to complete your look for your next tropical getaway? Pair your bikini with a pretty pareo!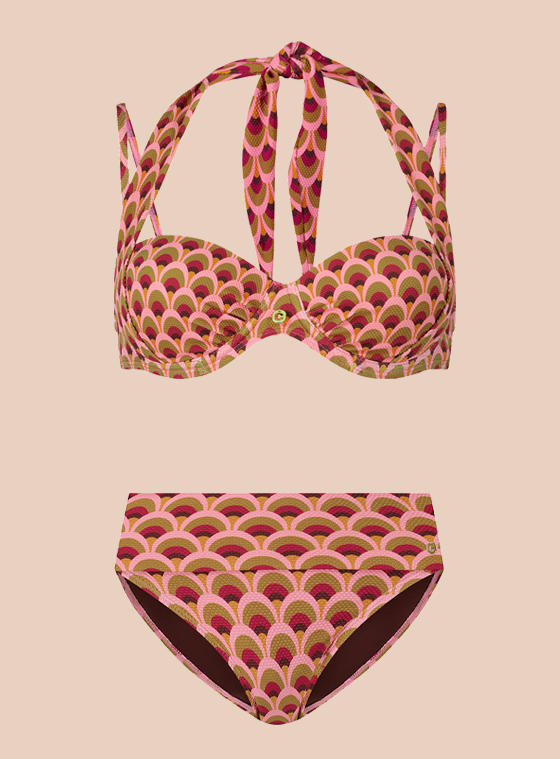 8. Pink Sunsets
From seventies design to a bright standout piece: isn't this classy swimsuit in a pink print to die for? This swimsuit is a beach-loving babe's dream come true: made of a supple, stretchy and smooth fabric for a curve-hugging and lovely fit. If you want to saunter from the beach to the beach bar in style, you can also shop the matching pink dress. WOW! Our favourite sustainable beachwear brand TC BEACH have really outdone themselves wth this stunning collection.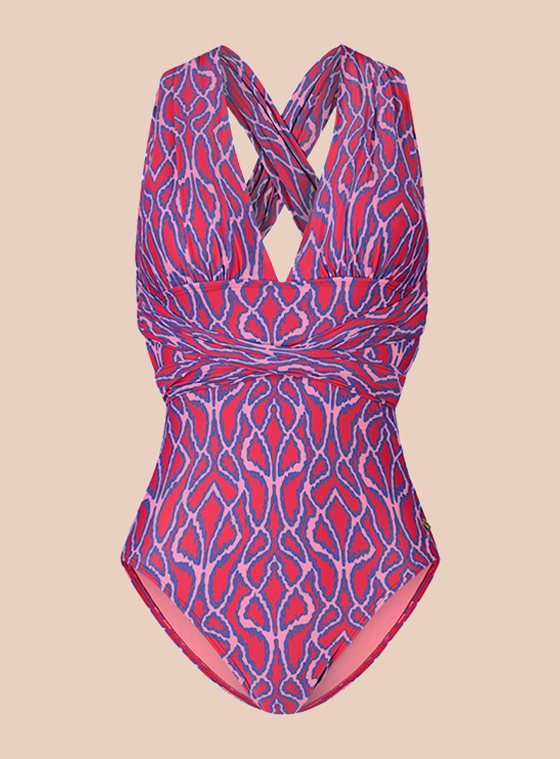 Discover the prettiest swimwear collection at Topvintage
These iconic swimsuits and many more that just missed out on a top-8 spot are available in our online retro boutique and in our Store! Of course you can also accessorise your favourite swimwear pick with gorgeous retro sunnies and a pair of cute sandals. Thanks to our super-fast shipping, your order will arrive before you have even booked your flight ticket. And once you have done that, all you need to do is pack your suitcase and you're off to your next tropical destination!